Rotorua Duck Tours
Looking for a unique and fun class experience, one that will educate and entertain?
With Rotorua Duck Tours, students can now experience the once-in-a-lifetime opportunity of a ride in a fully-restored World War II amphibious vehicle. Affectionately known as the 'duck', this vehicle is able to drive from land straight into the water and out again!
Rotorua Duck Tours is a great introduction to Rotorua with its history on people and the magnificent Rotorua Lakes region. A specific talk and student worksheet on AS 91007 is offered for students taking the Tarawera Lakes Tour. A Level 2 assessment task has been written specifically for Duck Tours on the contemporary issue of "Saving the Rotorua Lakes" which requires students to explain different view points on how to solve the water quality issues of the Rotorua Lakes. This individual assessment activity requires a tour of the affected lakes (Lakes Tour). Curriculum based student talks and worksheets available on request.
Tour One – Rotorua City and Lakes Tour
Departs: Rotorua Information Centre and I-site
Winter: 11.00am and 2.15pm
Summer: 11.00am, 1.00pm and 3.30pm (October – April)
Tour Two – Tarawera and Lakes Tour
Departs: Rotorua Information Centre and I-site
Winter: 2.15pm
Summer: 11.00am, 1.00pm and 3.30pm (October – April)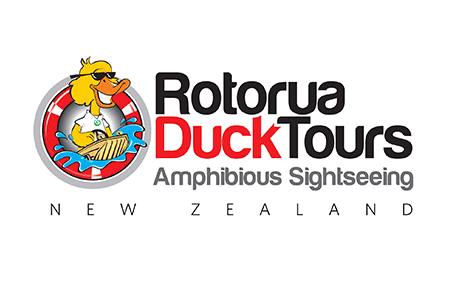 Top